Find it in : Settings / Developer / Webhooks
Sellsy offers a webhook system to optimize the link between Sellsy and your other applications.
At Sellsy (customer creation, document update) we give you the possibility to trigger the sending of information from Sellsy to a URL to be configured by you (you have to process this data on receipt).
Currently 2 types of webhooks already exist with Sellsy:
Slack Webhook

POST Webhook
Who should set up the webhook on Sellsy?
Configuring webhooks on Sellsy:
You need to go to "Settings / Developers / Webhooks".

Choose the webhook you want to configure (Slack or POST).

Then, go to the section chosen below to finalize the configuration.
Slack Webhook:
The Slack configuration also requires you to be an administrator on your slack account.
You must :
Create the webhook url on Slack.

Then, finalize the configuration on Sellsy.
1/ Get the url of the Slack Webhook:
1.1/ Log in to your Slack account.
1.2/ Go to the following address: https://my.slack.com/services/new/incoming-webhook/
1.3/ You will be redirected to a URL similar to this one: https://votre_pseudo.slack.com/apps/new/XXXXXXXX-incoming-webhooks
1.4/ Choose a default channel (this value is required to validate Sellsy's webhook, but it will be overwritten on Sellsy).
Ex: channel "#general" as shown below.
1.5/ Click on "Add Incoming Wehhooks integration".
1.6/ You will then get the "Webhook URL" to use on Sellsy.
More information:
2/ Finalize Slack configuration on Sellsy:
2.1/ Copy the "Webhook URL" retrieved in step 1.6 above
2.2/ Paste the "Webhook URL" on Sellsy (field named "Endpoint Slack").
2.3/ Enter the default Slack channel name (which will override the value in step 1.4 above).
2.4/ Select whether to enable sending data to Slack.
Regarding the information sent to Webhooks, you can choose a specific "Channel" for each action.
For example:
You can send email notifications to your customers on the channel, #email-opened

You can send invoice notifications created on the channel, #invoice

etc …
Here is the type of rendering you can get on Slack:
POST Webhook:
1/ You must add the URL to your script in the section named, "Configure webhooks".
2/ Then "Custom Endpoint".
3/ Activate the webhook (by checking the box opposite "Activate Webhook?").
4/ Select the notifications that you want to be transferred by webhooks.
Useful information about the Webhook Return Format:
An example allowing you to retrieve the POST content sent by the webhook in PHP.

The content of the JSON sent by the webhook.

The list of object types returned (relatedtype).

The webhook doesn't expect an answer.

The webhook does not handle errors.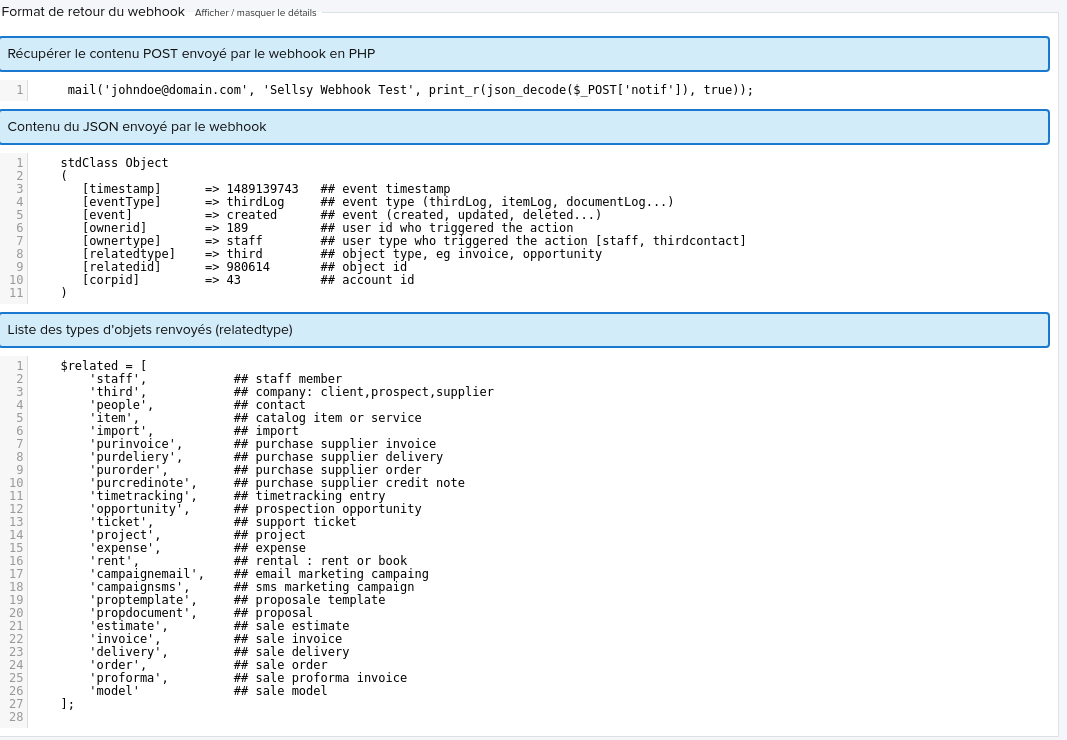 POST Content : 
mail('johndoe@domain.com', 'Sellsy Webhook Test', print_r(json_decode($_POST['notif']), true));

JSON Content : 
stdClass Object
	(
	   [timestamp]		=> 1489139743	## event timestamp
	   [eventType]		=> thirdLog		## event type (thirdLog, itemLog, documentLog...)
	   [event]			=> created		## event (created, updated, deleted...)
	   [ownerid]		=> 189			## user id who triggered the action
	   [ownertype]		=> staff		## user type who triggered the action [staff, thirdcontact]
	   [relatedtype]	=> third		## object type, eg invoice, opportunity
	   [relatedid]		=> 980614		## object id
	   [corpid]			=> 43			## account id
	)

Available related types : 

$related = [
		'staff',			## staff member
		'third',			## company: client,prospect,supplier
		'people',			## contact
		'item',				## catalog item or service
		'import',			## import
		'purinvoice',		## purchase supplier invoice
		'purdeliery',		## purchase supplier delivery
		'purorder',			## purchase supplier order
		'purcredinote',		## purchase supplier credit note
		'timetracking',		## timetracking entry
		'opportunity',		## prospection opportunity
		'ticket',			## support ticket
		'project',			## project
		'expense',			## expense
		'rent',				## rental : rent or book
		'campaignemail',	## email marketing campaing
		'campaignsms',		## sms marketing campaign
		'proptemplate',		## proposale template
		'propdocument',		## proposal
		'estimate',			## sale estimate
		'invoice',			## sale invoice
		'delivery',			## sale delivery
		'order',			## sale order
		'proforma',			## sale proforma invoice
		'model'				## sale model
	];
Other:
Learn more about webhooks: https://en.wikipedia.org/wiki/Webhook (en)