The Google Sync add-on offers two features:
-Synchronizing your Sellsy and Google calendars
-Transferring your Sellsy contacts to your Google account.
The plugin works for the free versions (Gmail) as well as for payed versions (Google Apps).
To enable the plugin, click on Store in your Sellsy account.
Note: you can limit the access to the plugin for some users by clicking on Manage team access.
Once the plugin is enabled, click on Settings.
Then click on Connect. You will be redirected to the Google authentification page.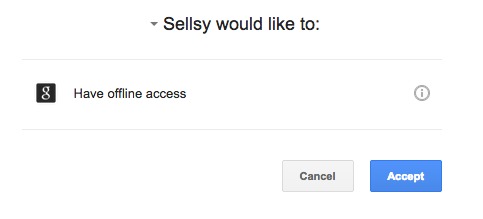 Confirm and your account will be connected.
You can choose to synchronize the contacts and/or calendar below.
An issue? A link allows you to reset the plugin at the bottom of the window.
Calendar synchronization feature:
The calendar synchronization enables the following features:
Google calendars are displayed in Sellsy

Your Sellsy calendar is displayed in your Google account
Regarding the updates:
The Sellsy calendar can be edited from Google and Sellsy

However, you can't edit the Google calendar events from Sellsy.
Contacts synchronization feature:
The contact synchronisation is one-way only: the contacts are copied from Sellsy to Google.
The purpose of this plugin is to give you access to your Sellsy contacts from your Google account, ex.: when you create an email. It is not a two-way synchronisation.
Note that you can also create Sellsy contacts (and edit them) straight from Gmail with the Sellsy widget for Gmail.
The plugin will create a Sellsy group within your Google contacts. This group will be fed from your Sellsy account when you activate the plugin, and it is synchronized automatically any time you add/edit a contact.
However, if you make any change in Google, this information won't go back to Sellsy. The same goes for the contacts that are created in Google contacts.
If you encounter an issue or wish to reset the plugin, don't forget that you will need to first delete the Sellsy group in your Google account before starting another synchronization.